Laika Boutique Stay
Located off MG Road, Bangalore, Laika Boutique Stay is a stylish unique destination offering splendid seclusion in the heart of the city. You can relax and shop till you drop, as Bangalore's most popular shopping malls like Lido Mall, 1MG Mall and Garuda Mall are a stone's throw away from Laika. Apart from shopping malls, Bangalore's major tourist attractions are also easily accessible from the homestay. A splendid blend of traditional and modern architecture, Laika Boutique Stay offers a perfect combination of uncompromising hospitality and amenities that a business traveller or a tourist would desire.
Laika Homestay presents an interesting potpourri of different places and time. The furniture present in the building are specifically chosen from old houses and monuments recognized for their heritage value. The interiors replicate the simple luxurious elegance of the bygone era where the beds narrate the history of ancient homes of Kerala, the tables bespeak the Portuguese contribution to Goan homes, the window louvers stand proud in their testament to Bangalore's historical mansions and the timbers on the gates bear the mark of thousands of trains, for they were a part of Indian Railways.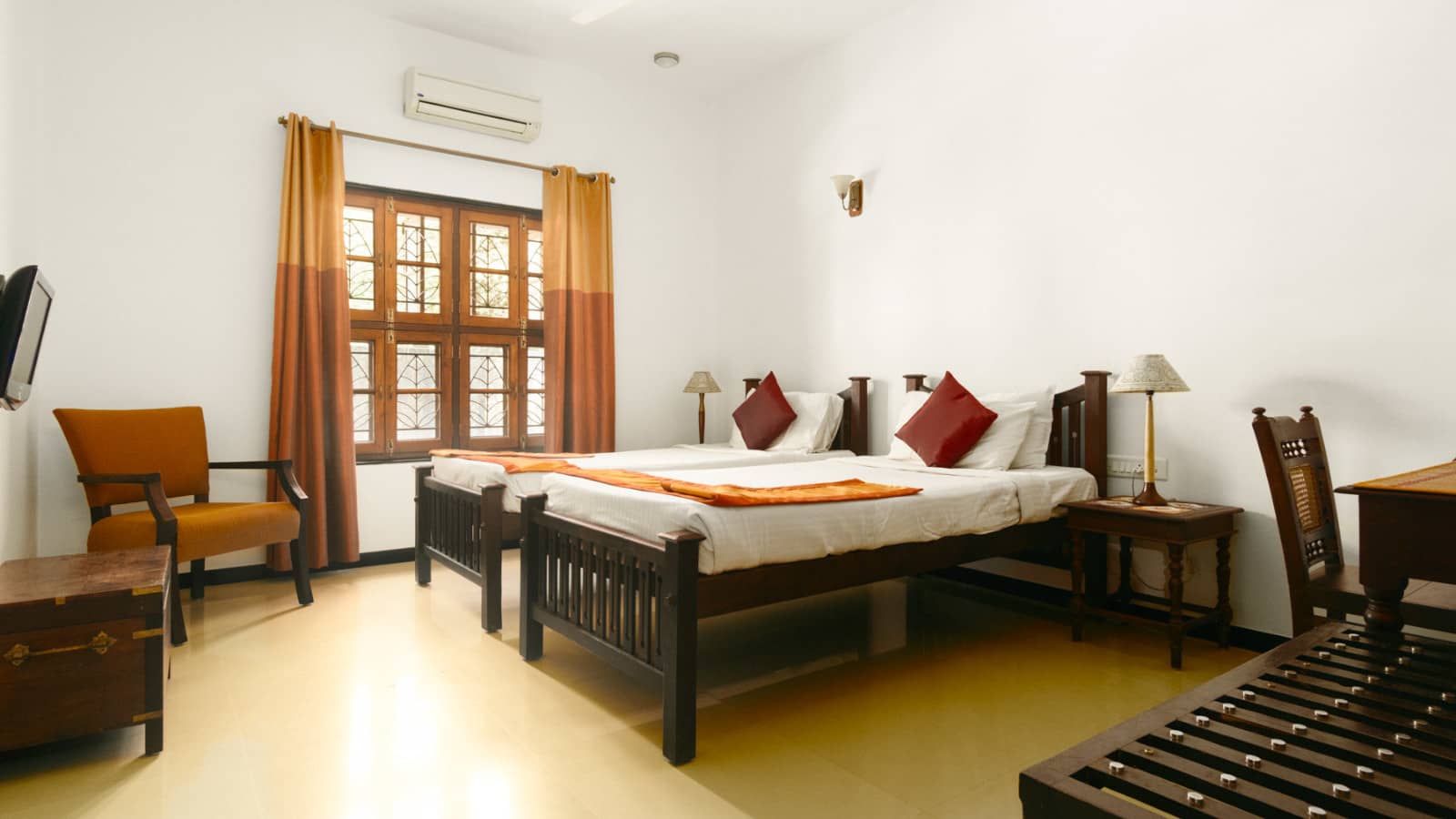 The homestay amidst a beautiful garden and its welcoming atmosphere energizes guests after an exhausting travel. Laika Boutique Stay offers the best rooms in Bangalore. These rooms are spread over two levels and offer the best in comfort and convenience. The aesthetically designed rooms with antique furniture reminds you of the bygone era. Your stay at Laika is complimented with an ample breakfast with a local Indian dish as well, served at our cosy dining area. The Bed & Breakfast also maintains a library and can also arrange cooking classes exclusively for the guests.
So why wait? Come and experience an exceptional holiday at Laika Boutique Stay - "A home away from home."
Yes, depends on the occupancy we have the night before or day after. Can be confirmed only closer to the booking date.
Free cancellation and amendment upto 5 days before check-in. Within 5 days, cancellation to incur 1st nights tariff. Within 5 days, amendment allowed - case by case basis. Prepayment needed - 50% to 100%
It depends on how you have made the reservation. For third party bookings, we request you to initiate the amendment directly with them. For direct bookings through our website, you can contact us directly via phone on +91 9482806630
We have 8 bedrooms that can comfortably accommodate 16 people.
One extra bed can be added to each room. However, it will incur an extra charge and needs to be confirmed with the property prior to arrival.
Yes, we would love to host your entourage.
No, unfortunately, it is not. There is a small flight of stairs at the entrance after which there is an elevator. However, we will do our best to accommodate your special needs.
Kindly reach out to us directly.
Yes, you can wash an entire load of laundry (7kgs) for INR 300.
No, but the rooms can be locked during your stay. We can also store your bags with our front desk manager.
Yes, we have lovely seating in the garden where you can enjoy the quiet outdoors of the green city.
Yes, we have really good connectivity for all those digital nomads.
Yes we have secure parking within our premises.
Fully equipped shared kitchen with utensils.
Breakfast is included and will be prepared for you. Food can also be ordered from outside and eaten at the shared dining area. Keeping in mind the hygiene of the place, food is not allowed to be consumed within the rooms.
We are at the heart of Bangalore city on MG Road, which is filled with restaurants just 2 minutes away.
Airport shuttles can be organised for an extra charge. Please contact us if you require us to arrange it for you.
The Bangalore Palace, Vidhan Soudha, enjoy a scenic walk in Cubbon Park and Lal Bagh, indulge in some shopping around MG Road malls, enjoy the micro breweries in the pub capital, and many more.
No. However, there are a lot of online options available in Bangalore. You can ask for more details at our front desk.
No, currently we do not offer any curated tours. However, Bangalore has a plethora of providers for you.
We are centrally located, just off MG Road in the CBD (Commercial Business District).
Yes, we understand that pets are part of your family too. This is for an extra charge of Rs 500 per day/ per pet.
We are a homely property tucked away in a quiet neighbourhood. Hence we do not encourage parties and love hosting people who value serenity. We do allow drinking when done responsibly and without disrupting the peace. Smoking is permitted only outdoors in the garden or common balcony area.
We do not allow loud music at the property.